Everyone likes to read success story
So, let us share with you our one success story.​

Mongolia's first & biggest
mobile based lending app
Registered users
In Mongolia
Back in 2016,
We started out as a group of friends with math backgrounds, who wanted to create Mongolia's first AI/ML-based credit scoring system. However, when we wanted to sell this Credit Scoring system to other banks and NBFIs, no one understood its importance of it, and no one took them seriously.
So, we decided to start our own NBFI, LendMN, and used our own Credit Scoring technology, as well as other technological solutions like mobile phone-based micro lending, that were first in the country.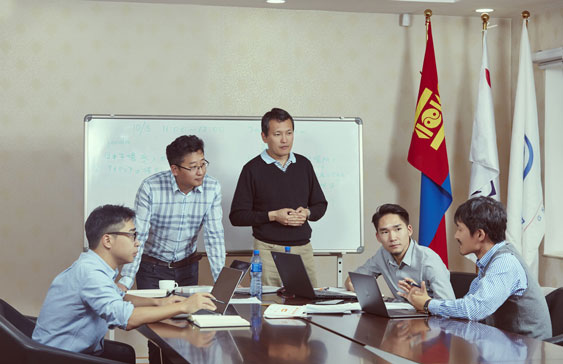 It was not that easy when we first started. At the time in Mongolia, there were no e-KYC, no API connections with the Credit Bureau, no open banking to retrieve bank statements, no centralized scoring system, no corporate gateway with banks for collection and disbursement of loans, and only wet signatures were accepted. In addition, most of the lending market was dominated by pawn shops and traditional lenders, which had processes that took as long as 1 month in some cases.
E-KYC
OPEN BANKING
CENTRALIZED SCORING
CORPORATE GATEWAY
E-SIGNATURE
LendMN when first acquired by AND Global, was a small and traditional NBFI, with no customer base, no existing operations.
Acquisition price: --,000$
When AND Global introduced LendMN, we solved these problems by introducing ID reader and Facial recognition with our e-KYC solution, we retrieved bank statements using online banking credentials of the customer, we used AI powered credit scoring, to enable credit assessments to be done in under a minute, we collaborated and developed with the banks corporate gateways, for online collection and disbursement of money, and we also introduced notary services for branchless contract signature.
Fully digital micro-lending
Mobile-based & branchless
Financial inclusive
AI/ML-based credit scoring
In two years, we have transformed it to the leading NBFI on the market, with fully digital and branchless operations, that was easy and inclusive in nature. LendMN did its Initial Public Offering on the Mongolian Stock Exchange after one year of operation, and had an IPO valuation of USD 7 million.
$–,000$ -> $7,000,000 IPO valuation
LendMN was an instant success, and grew fast.
Not long after, we introduced an e-Wallet feature to LendMN, but soon realized that to reach a wider demographic, we had to separate the e-Wallet from the Lending app, so we built the first lifestyle ecosystem app with open APIs to incorporate third party services, called Super Up.
We have been busy introducing B2C digital services to the market, but deep down all of us had a Tech DNA, and we wanted to focus more on the technology and provide our tech solutions to other companies, internationally. Now, through AND Solutions, we are providing our market-tested solutions to other clients in other countries.
Hope you enjoyed our success story.